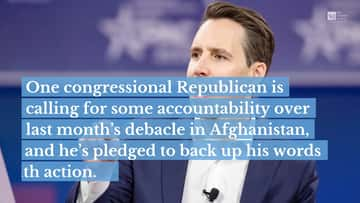 Sen. Hawley Calls for Resignation of Biden's Secretary of State and Defense
By Kipp Jones September 15, 2021 at 6:19am
One congressional Republican is calling for some accountability over last month's debacle in Afghanistan, and he's pledged to back up his words with action.
Sen. Josh Hawley of Missouri vowed on Tuesday during a speech on the Senate floor to oppose the confirmation of any nominees for the State and Defense departments until a number of high-profile national embarrassments resign.
Hawley also called for the resignation of President Joe Biden. But with that scenario unlikely, the senator vowed to withhold his vote to confirm anyone at the departments responsible for getting 13 American heroes killed in Kabul, Afghanistan, in August and for leaving American citizens to fend for themselves against the Taliban.Advertisement – story continues belownull
Hawley will deny Democrats votes to confirm the nominees until Secretary of State Antony Blinken, Defense Secretary Lloyd Austin and National Security Advisor Jake Sullivan resign over the decision to surrender to the Taliban.
Hawley, a member of the Senate Armed Services Committee, called the embarrassing evacuation from Afghanistan following a 20-year war "chaos," which led to American civilians being "left behind to the enemy."
He then excoriated Biden for describing the Afghan disaster with the words "extraordinary success."

"This president is a disgrace. His behavior is disgraceful. He has dishonored this country with his shameful leadership in this crisis, and it is time for him to resign," Hawley said.
https://www.westernjournal.com/sen-hawley-calls-resignation-bidens-secretary-state-defense/?utm_source=telegram&utm_medium=westernjournalism&utm_campaign=telegramfeed&utm_content=2021-09-15